In 2020, humanity witnessed a global pandemic of a scale that was never seen in our lifetime, and everyone's world turned upside down. Covid-19 brought a lot of learnings for each of us, with the biggest one being to focus on one's health. The sudden & foreign nature of the virus put a lot of stress on current healthcare systems worldwide.
Along with the world, we, too, faced immense challenges as healthcare was mainly inaccessible to the masses back then. But, as the clichéd saying goes, 'Every dark cloud has a silver lining'. While our healthcare was reeling under pressure, the world looked up to India to roll out vaccine supply as India accounted for 50% of the world's vaccine supplies. In a bid to tackle the dual task of rolling out vaccines and providing healthcare services to its people, the government amped up its efforts by announcing policies to increase healthcare expenditure and make it more accessible.
Such a pandemic-induced global epiphany opened a plethora of untapped opportunities in the healthcare sector.
Opportunities
When we think healthcare, we usually think of pharmaceuticals & rightfully so, India is often known as the 'Pharmacy of the world' as it leads in generic drug production. But healthcare is much beyond pharmacies; it includes hospitals, diagnostics, medical equipment & supplies, research and analytics etc.
Most of these segments are primarily underpenetrated in India. For instance, hospitals in India make up a sizable chunk (80%) of the healthcare sector. Yet, the density of hospital beds in India is critically low. For every 10,000 people, we only have 12 beds against the 18 beds recommended by the World Health Organisation.
Similarly, the low adoption of health insurance plagues the healthcare industry. Inaccessible healthcare plus no health coverage translates to an increased burden on individuals. Some estimates suggest that ~60% of all health expenses in India are out-of-pocket expenditures.
While accessibility and coverage remain the pain point, India is emerging as a preferred choice for medical tourism. Like most of us travel the world to satisfy our inner travel bug, patients travel overseas for major medical procedures. World-class hospitals, skilled medical professionals, and low-cost medical procedures make India a medical tourism hub. Currently, India ranks 10th in the medical tourism index. However, it can be expected to move up the ladder as the government take positive initiatives to boost medical tourism
Growth Drivers
Rising income levels & increased financial awareness have laid the foundation for increased adoption of health insurance in the past few years, with the pandemic being the final push.
The government is also pushing for reforms in the sector. As a result, the budgeted expenditure as a % of GDP has dramatically risen from 1.3% in 2020 to 2.1% in 20221. The government also announced the world's largest healthcare scheme – Ayushman Bharat, which aims to provide basic health insurance, increase healthcare capacities, provide accessible & affordable healthcare, develop digital infra to connect various stakeholders, etc. Another significant step is increasing FDI limits by up to 100% to boost investment.
An ageing population with a growing middle class and greater longevity will
boost the demand for health services in India as well as increasingly favour
wellness and preventative services.

–Niti Ayog, Investment Opportunities in India's Healthcare Sector
The Indian healthcare sector is one of the largest & fastest-growing sectors of the Indian economy, with a considerable runway for growth. Having witnessed 14x growth in the last 14 years, it is expected to reach $372 Bn in market size by the end of this year1. Such high levels of interest from the government & consumers alike in a high-growth sector make it an attractive investment opportunity.
A defensive play
Along with taking care of one's health, the pandemic also led to heightened attention from investors towards the healthcare sector. Numerous options are available for investors looking to invest in one of India's fastest-growing sectors. But before investing, it is important to have a basic understanding of the nature of the sector & how it performs in various market cycles.
Healthcare is an essential service & the sector is typically considered defensive, making it resistant to a market downturn. The demand for healthcare services is inelastic & less impacted by economic swings translating to outperformance during choppy times as investors look to invest in relatively safe sectors. The below exhibit compares the performance of the healthcare sector with the broader market during the bull, bear & recovery phases.
Exhibit 1: Performance across market cycles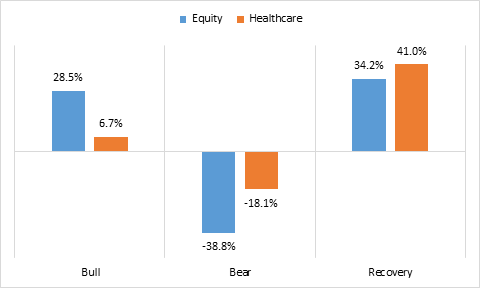 Equity = S&P BSE AllCap TRI
Healthcare = S&P BSE Healthcare TRI
Source/Disclaimer: S&P BSE; total returns index (TRI) used for performance calculations as of close of 30-Sep-05 to 30-Sep-22. Past performance may or may not be sustained in future
During bull markets, healthcare has delivered underwhelming performance, but during bear markets, it has hugely outperformed by ~24%. Even during recovery time, there is some level of outperformance. Investors looking to play the defensive card can diversify to healthcare as a satellite allocation.
Looking at the historical trend of sectoral composition, we find the weightage highly skewed towards a single industry. Pharmaceutical companies in the healthcare sector dominate the listed landscape holding a disproportionate weight (~80% in terms of market cap) in the overall listed healthcare space. But the weight is slowly decreasing with an increase in the share of other sectors like Hospitals.
Exhibit 2: Healthcare sector breakdown
Others = Healthcare service providers, Medical equipment & supplies, Healthcare research, healthcare analytics, healthcare technology, etc
Source/Disclaimer: S&P BSE. Data as of 30-Sep-2022.
The Healthcare industry is one of the fastest-growing sectors in India & has strong tailwinds backed by the government & consumers alike. It is an essential service and hence tends to perform well during turbulent times & times of recovery. With government push, a growing middle class & increasing focus on personal health with the onset of covid, it is set to benefit immensely.
Source/Disclaimer: 1Indiabudget.gov.in. Data as per latest available report as of 30 March 2022. 2NITI Ayog, Frost & Sullivan, LSI Financial Services, Deloitte. Data as per latest available report as of 30 March 2021. This article has been issued based on internal data, publicly available information and other sources believed to be reliable. The information contained in this document is for general purposes only and not a complete disclosure of every material fact. The indices mentioned herein are for explaining the concept and shall not be construed as investment advice to any party. The information/data herein alone is not sufficient and should not be used for the development or implementation of any investment strategy. It should not be construed as investment advice to any party. All opinions, figures, estimates and data included in this article are as of date. The article does not warrant the completeness or accuracy of the information and disclaims all liabilities, losses and damages arising out of the use of this information. The statements contained herein may include statements of future expectations and other forward-looking statements that are based on our current views and assumptions and involve known and unknown risks and uncertainties that could cause actual results, performance or events to differ materially from those expressed or implied in such statements. Readers shall be fully responsible/liable for any decision taken based on this article. Mutual Fund investments are subject to market risks, read all scheme-related documents carefully.